Solar systems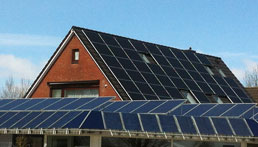 Our solar systems supply electricity for buildings far away from public grid. This electricity is used for lighting, air conditioning, water heaters, communication instruments, schools and many more… SOLAR energy has very low operation cost. We build photovoltaic systems of different output power starting from 1.5KW up to 500KW with high quality components. We offer a broad range of projects to satisfy your wishes. We take care of your project from A to Z to ensure an efficient operation over a period of 20 years and more.
We also offer #27000BTU solar air conditioning for cooling and heating.
Our company supplies 5-300W solar panels:
#-street lights with solar panels
#- solar traffic signal lights
#- solar water purifiers
#- agricultural solar pumps
Les systèmes pour l'énergie solaire :
Nos systèmes d'énergie solaire fournissent de l'électricité pour des immeubles, qui sont loin du cadre public. Cette électricité est utilisée pour l'éclairage, l'air conditionné, les chauffe-eau, les technologies de communication, les écoles, et bien d'autres encore… L'énergie SOLAIRE a des coûts d'exploitation très faibles. Nous créons des systèmes photovoltaïques de différentes puissances, pouvant aller de 1,5KW à 500KW, avec des éléments d'une qualité très haute. Nous offrons une grande variété de projets afin de satisfaire vos désirs et besoins. Nous prenons soin de votre projet de A à Z, afin de garantir une fonctionnalité efficace, tout au long d'une période de 20 ans, ou plus encore.
Nous offrons également un produit de climatisation solaire #27000BTU, afin de chauffer ou de refroidir.
Notre compagnie fournit des panneaux solaires de 5-300W :
#- l'éclairage public équipé de panneaux solaires
#- feux de signalisation solaires
#- purificateurs d'eau solaires
#- pompes solaires pour l'agriculture