The energy is there!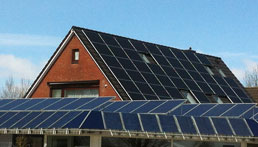 - Company Profile ArabEnergy-Renewable Energies is a facilitator of renewable energy projects between Germany and the Arab world. - Strategy and Vision Energy is widely used and therefore must be reasonable. We want to help as quickly as possible in order to ensure that the demand for energy is produced from renewable sources in many regions.
The Team
Our team has excellent experience in its work as a mediator and has good contacts with companies in the energy industry.
CEO: Mr. Mostafa Abd Alla
Email: contact (at) arabenergy (dot) de
Head engineer: Mr Sayed Hamed
Email: sayed.h (at) arabenergy (dot) de
Director engineer: Lady: Mona Metwali
Email: mona.m (at) arabenergy (dot) de
Notre entreprise  
  
L'énergie est là!!

Le profil de notre entreprise ArabEnergy, tournée vers les énergies renouvelables, est un tremplin pour nos projets d'énergies renouvelables, facilitant la réalisation de ces projets entre l'Allemagne et le monde arabe. La stratégie et la perspective innovatrice (i.e. avant-gardiste) sont les enjeux principaux à user avec modération. Pour l'instant, nous devons répondre au plus vite aux demandes en énergies renouvelables dans une multitude de régions.

L'équipe

Notre équipe a une excellente expérience dans son travail en tant que médiateur et a de bons contacts avec des entreprises provenant du secteur de l'énergie.
Directeur de l'entreprise : M. Mostata Abd Alla
Mail : contact (at) arabenergy.de
Ingénieur en chef : M. Sayed Hamed
Mail : sayed.h (at) rabenergy.de
Ingénieur et directeur d'unités : Mme Mona Metwali
Mail : mona.m@arabenergy.de